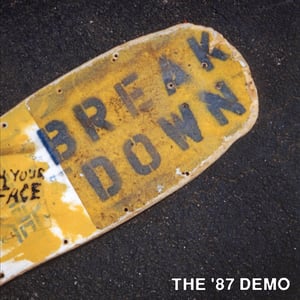 $

15.00
540 Records and Painkiller have teamed up once again to bring you the other half of the legendary "Breakdown; Both Demos" series: the legendary '87 Demo. Breakdown's original 1987 lineup was only together for a few short months, but in that time they produced one of the most legendary and influential recordings in the history of New York Hardcore. Paving the way for every hard and heavy band to follow, Breakdown's take on hardcore was balanced with the perfect mix of hip hop's bounce, the power and dynamics of heavy metal, and an unmistakable New York accent laced across a tough, streetwise sound that could only have come out of 1980's New York City.
This LP contains the full 9-song '87 Demo, released here for the first time on vinyl in its entirety, backed with a crushing live set recorded on WNYU radio's Crucial Chaos during the summer of 1987. Both recordings have been faithfully restored from original sources and sound better than ever. Includes a full color 12"x24" poster insert with extensive notes and anecdotes from members of the NYHC scene.
Color vinyl available for mail order only, while it lasts.
Pressing Information:
400 yellow/black splatter vinyl
1500 black vinyl